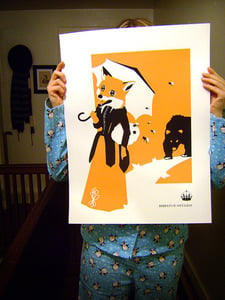 $

20.00
Screen printed on 24lb Bond stock, this 18" x 24" poster introduces you to Margaret: the not-so-wily fox from the Dispatch Ontario children's book series.
The poor dear.
She's been trying so desperately to earn her "wiliness" badge for her ladies' group, but I don't think this plan is going to run as smoothly as she'd hoped...
Inspired by Victorian and Edwardian illustrations, Dispatch Ontario's characters are best described as the anthropomorphic offspring of Edward Gorey and Beatrix Potter, with liberal dashes of Canadiana thrown in for good measure.